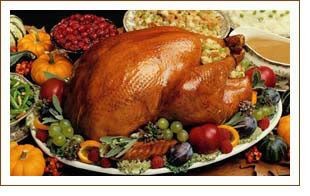 We had a turkey in the freezer that hubby got at work for Christmas that we didn't use over the holidays. I felt a challenge in my tightwad ways coming on, so here is my plan for the turkey, the meals (and meal cost) we have made so far. I will update each day with recipe and meal cost.
I also have the advantage of a HUGE electric roaster my mom got me last year. I think the turkey was between 12-15 lbs, thawed it for 2 days then put it in the roaster on Thursday, it was done in about 5 hours. The only seasoning I did while roasting was some butter and salt and pepper. We began our turkey adventure Friday night. (remember turkey cost is $0)
Friday--
turkey, mashed potatoes, green beans and toast.
turkey:$0
instant potatoes: $.60 + .20 for milk and butter=.80
green beans: $1.00
toast: about .50
total cost of Friday meal:$2.30
this night we basically ate the legs and half of one of the breast. Then I pulled as much meat as I could, filling 3 quart size Ziplock bags.
Saturday--
Turkey and Rice Bake
turkey: $0
rice: $.58 (about half a box of Minute Rice I got for $1.12 @ Kroger)
can of cream of mushroom soup: $.59
total cost: $1.17
This is a super easy, fast, and CHEAP meal! Just cook rice according to directions, add turkey or chicken, stir in soup, mixing well,sprinkle top with salt and pepper, bake in the oven for 10 min @ 350*, voila! Add a bag of steamed veggies for a healthier meal!
Sunday--
BBQ Turkey Sandwiches
turkey: $0
BBQ sauce: $.78
buns: $1.10
fries: $1.17
total meal cost: $3.05
I tried to use most of the darker meat for this one. Also made leftovers that I will be able to freeze for later use. Just use two forks to shred the meat, and cook with the BBQ sauce for about 10 minutes.YAY!
Looking forward to the rest of the weeks turkey meals!